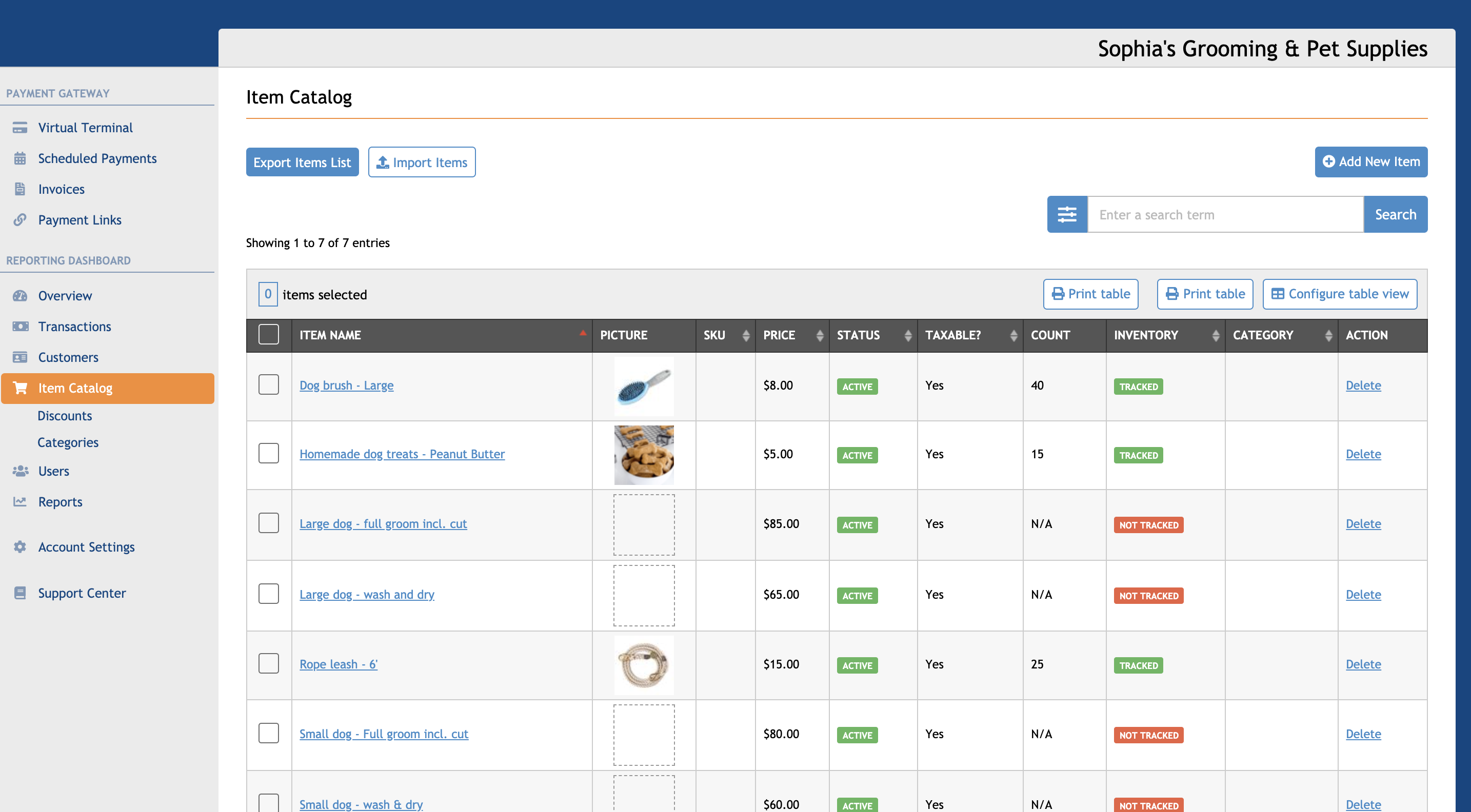 View and manage inventory, create new items, and export/import your items from the Items page.
Add new item(s):
Select the Add New Item button to add new items to your inventory. You may add items individually or find details to upload inventory in bulk by selecting Import Items.
Add item information such as:
Image
Item Name
SKU
Price of item
Quantity*
You can also choose if an item is Taxable or choose to assign it to a Category.
*To enter a quantity, turn on the Track Inventory function. If the item is included in a sale, it will be deducted from the quantity you enter here.
Edit item(s):
Edit an item's name, SKU, price, category, taxability, tracking, count on hand, and status by selecting the item from the table.
To edit items in bulk, select the checkboxes on the left hand side. Once selected, you can edit the items category, taxability, tracking, and status by selecting Edit Item(s).
Delete Items
Items may be deleted by clicking the Delete button in the far column. Items that are deleted may not be recovered. Delete items in bulk by selecting the checkboxes on the left hand side and clicking the Delete Item(s) button at the top of the inventory list.
To retain historical reporting of items no longer in your inventory, best practice recommends updating the Item's status from Active to Removed. This is done by selecting the checkbox on the left hand side and choosing Edit Item(s) > status. Select Removed from the options to deactivate an inventory item. This item will no longer appear in your Item Catalog for sales, however will retain it's reporting accuracy in the Items Report.
Export items list in Excel format:
Click Export items list download current inventory items in an Excel file. You can update this Excel file and reimport it with changes in order to make bulk changes to items. This is useful for restocking.
Organize the order of your inventory items based on key details. For example, click on Price to order items based on their prices.
To search for a specific item, key in any of the key details in the search field on the right-hand side of the screen.