The SwipeSimple Expiring Cards Report offers an overview of your customers who have Scheduled Payments with Cards on File that are set to expire soon, or are already expired. It is located in the SwipeSimple Dashboard, nested within the Reports tab. When the Reports item is selected in the sidebar, additional reports will expand below from that selection. Reports are available to SwipeSimple admin users only.
Once the Expiring Cards Report is selected, a default view will load in the main window with a report date range that begins 12 months back from the current month and ends one month in the future. This report will not offer a date range filter, but the criteria for the report is determined on the date range set automatically by the software.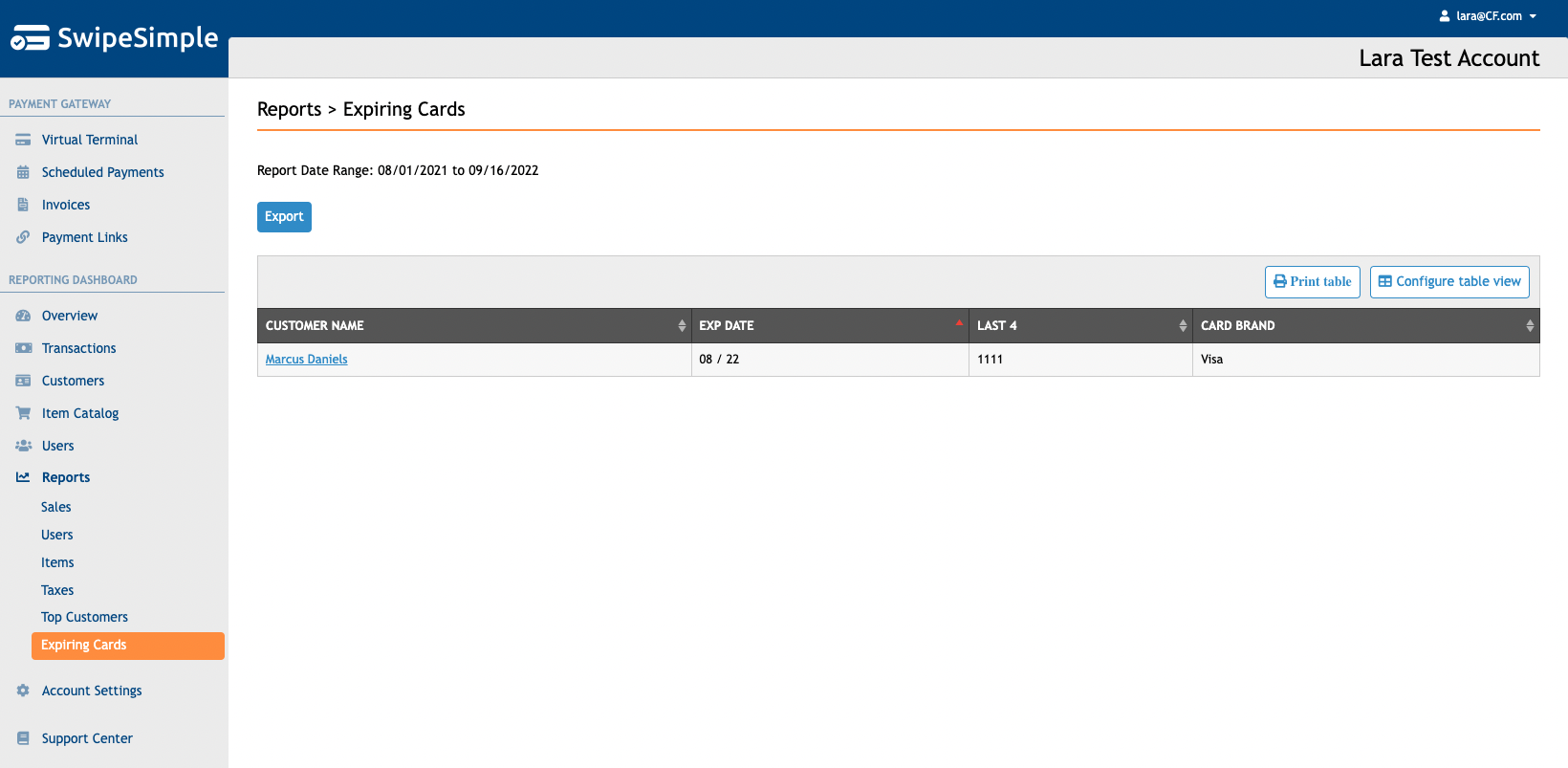 Report Data
The Expiring Cards Report displays in a table view with each row representing a Customer with a card on file which will display as the first column header. Each additional column header will define the content in the table. The report results will be limited only to customers who have an active Scheduled Payment associated with their card. For information about Scheduled Payments, please see this article. Clicking on the arrows to the right of each column name will sort the table alphanumerically by the data within that column. A red arrow indicates the column that is currently sorting the table and in which order.
Report Content
Customer Name: Displays the Customer Name associated with the SwipeSimple Customer Profile.
Exp Date: Displays expiration date of the card set to expire.
Last 4: Displays the last four numbers of the card set to expire.
Card Brand: Displays the card brand of the card set to expire.
Additional Report Details
Export: Clicking Export will automatically download a CSV file of your report data to your computer
Print Table: Generates a print window to send your report results to your printer
Configure Table View: Allows you to hide or show any column in the table.