The SwipeSimple Users Report offers a brief summary of transaction details broken down by the user who took the transaction in the selected date range. It is located in the SwipeSimple Dashboard, nested within the Reports tab. When the Reports item is selected in the sidebar, additional reports will expand below from that selection. Reports are available to SwipeSimple admin users only.
Once the Users Report is selected, a default view will load in the main window with a 30 day date range selected. This report can be filtered by a date range selection as well as by Payment Device if your SwipeSimple Company has more than one. The Payment Device filter allows you to select a single device, or choose All.
Using the date range filter:
The date range filter expands when you click on it. SwipeSimple will offer some quick buttons to easily select some frequently used date ranges which you'll see to the left. To the right, there will be two small calendars which allows for the selection of a custom date range. The first one represents the start date and the second represents the end date for your filter selection. A user must select a date from each calendar and then select the Apply button at the bottom left for the selected date range to take effect. If Apply is not selected, and a user clicks out of the calendar, the date range selection window will be dismissed without updating.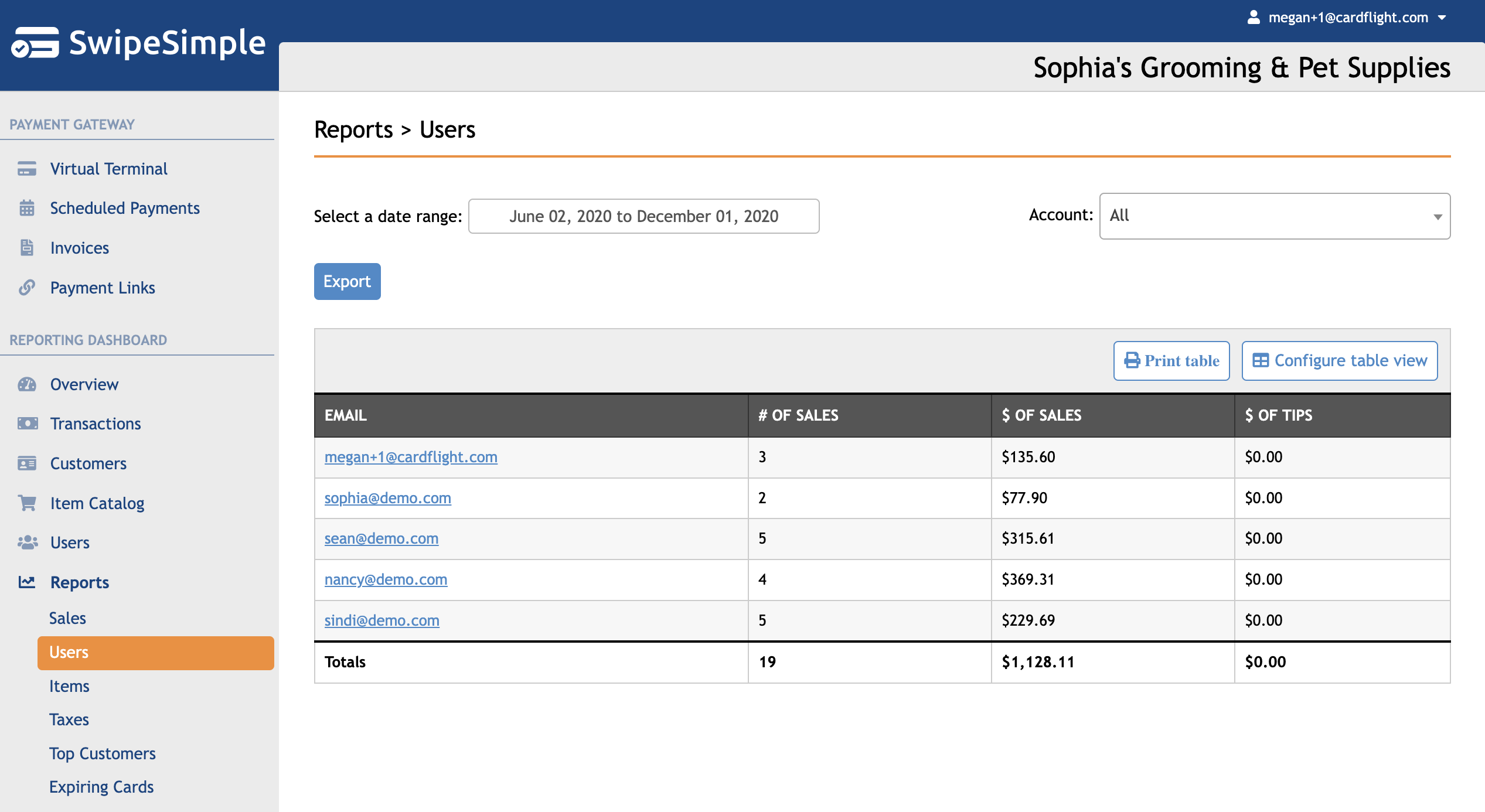 Report Data
The Users Report displays in a table view with each row representing a SwipeSimple User which will display as the first column header. Each additional column header will define the content in the table. The final row in the table will provide totals for each column.

Report Content
Email: Displays the email address associated with the user who took the transactions in the selected date range. If the user is active, but did not take transactions in the date range, they will not appear in the report.
# Of Sales: Displays the number of transactions taken by that user in the selected date range.
$ Of Sales: Displays the total dollar amount of transactions taken by that user in the selected date range. This figure includes the total dollar amount of tips associated with those transactions.
$ Of Tips: Displays the total number of tips added to transactions taken by that user in the selected date range.
Additional Report Details
Export: Clicking Export will automatically download a CSV file of your report data to your computer
Print Table: Generates a print window to send your report results to your printer
Configure Table View: Allows you to hide or show any column in the table.